The Smart Nonprofit's Guide to Donor Management Software
| Written by
ClearView CRM
|

Back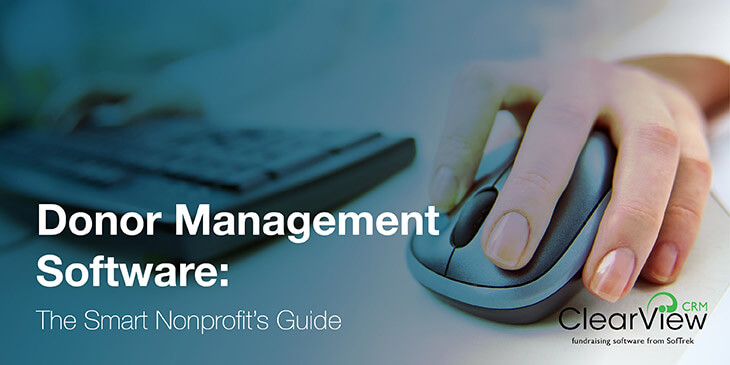 Your organization's relationships with its donors are some of the most crucial connections it can have. You already know that stewarding donors is more rewarding in the long run than soliciting first-time donors again and again.
But how can you ensure that you have all the tools you need to successfully cultivate, maintain, and strengthen the relationships between your nonprofit and your donors?
Enter donor management software, or a centralized and overarching platform for tracking donor data and driving engagement.
Your nonprofit has to be smart about picking donor management software, and it can be hard to know where to start. That's why we've compiled a list of things to consider before making a purchase.
This can seem like a lot, but it's worth the work to ensure that you end up with the right software for your needs. Let's dive in!

---

1. What is donor management?
Donor management is the process through which your organization keeps track of donor interactions to build stronger relationships.
This includes everything from donation dates and amounts to interactions between a donor and a staffer.
Tracking donor data is an important part of a nonprofit's stewardship strategy. Acquiring new donors is more difficult than encouraging previous donors to give again, so it's in your best interest to maintain the connection with a donor.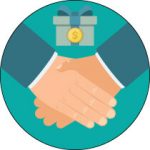 Managing donor data can be difficult, especially for larger nonprofits. Once your organization reaches a certain size, an Excel spreadsheet just isn't going to cut it. That's where donor management software comes in.
---

2. What is donor management software?
Donor management software is a solution built specifically for nonprofits. Both for-profit and nonprofit organizations have benefitted from using a consumer or constituent relationship manager, or a CRM.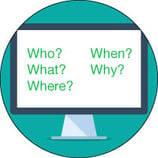 Using a specific software solution to handle donor management is a key innovation for large nonprofits. It makes it easier for nonprofits to track the who, what, when, where, and why of donors and donations.
And because understanding a donor is the key to tailoring a stewardship strategy, organizations should have a centralized location to store the information they have about the donor.
---

3. What are the benefits of using donor management software?
Donor management software is a useful tool for streamlining your data collection processes, analyze and optimize your fundraising strategies, and personalize your outreach efforts. But there are even more benefits to using a dedicated software for your donor relationship manager: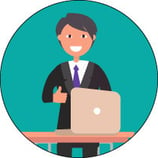 It eliminates human error. It's impossibly easy to type something incorrectly. When you centralize your data collection efforts, someone's contact information flows directly from their fingertips to your donor management software.
It offers you a 360-degree view of your donor relationship. A comprehensive donor database can see all of someone's donations, donation amounts, volunteer history, event attendance, and personal interactions they've had with your nonprofit.
It increases your donor retention. The software can remind your staffers when it's time to reach out to a donor again, and with all of your donors' information in one place, you can make them feel more appreciated by personalizing asks, thank yous, and invitations.
It strengthens your multi-channel fundraising efforts. When you use a comprehensive donor management software that includes fundraising capabilities, there's no limit to what your nonprofit can do during a fundraising campaign.
It increases your efficiency and productivity. With cleaner data and standardized information, your staff can be more efficient in making asks, sending follow-ups, organizing events, and compiling reports.
In other words, there is no reason why a large nonprofit shouldn't be using a donor management software.
---

4. What are the most important features in a donor management software?
Now that you know what a strong donor management software solution can do, it's time to evaluate the details of it. Your team needs to sit down and evaluate which features you will need.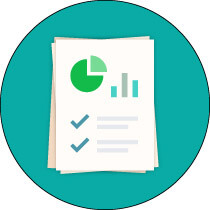 Customizability and flexibility.
When choosing donor management software, it's important to keep in mind that one size does not fit all. Your team should have the ability to:
Build custom reports based on your nonprofit's key metrics.
Add custom fields to donor profiles for improved understanding and segmentation.
Flow data from your donor management software to any other software, and vice versa.
Design custom dashboards based on the information you need most.
If your software can't be tailored to your nonprofit's needs, it's not the right software for you.
Ease of implementation and use.
The implementation of your donor management software is crucial for the success of your team: if it takes a long time to complete, or is too complicated, you might miss out on valuable opportunities.
A donor management software should fit into place with minimal disruption, and be intuitive enough that your team can get back to business as soon as possible.
Another piece of the implementation puzzle to think about when considering donor management software is the how it will fit into your existing technology strategy. A donor management solution that doesn't integrate easily with other software is a liability.
Subledger capabilities.
When your fundraising CRM can serve as the backbone of your accounting process, it dramatically simplifies and improves your organization's ability to share and reconcile data between your fundraising and finance departments. To serve as a subledger, your donor management software must be able to track detailed accounting information for each transaction, so that the appropriate contribution income code can be applied when communicating with your finance software.
Important details your donor management software should track in its subledger feature are:
Project- and time-based restrictions.
Pledge receivables.
Whether or not a specific transaction has been sent to the finance department or not.
With features like this included directly in your donor management software, your organization can save time by moving to a fully automated reconciliation process, as well as ensure that the development and finance departments can always trust the numbers in the integrated system.
Event planning and registration.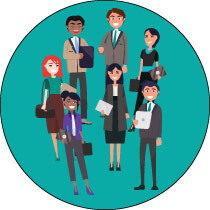 If you're looking for a truly comprehensive donor management strategy, you should consider one with event management capabilities.
Being able to plan your events within your donor management software is a huge boon for your multichannel fundraising efforts. A universal software solution is a better idea than using 12 different software programs to support your nonprofit's mission.
With an integrated event planning and management solution within your donor management software, your team will be able to:
Track event expenses within your overall budgeting strategy.
Create assignments and manage staffers and volunteers.
Track your ROI for the entire fundraising campaign, including your events.
Event management is a key feature for a comprehensive donor management software solution.
Major gifts stewardship tools.
Your donor management software should be your greatest support system when soliciting, cultivating, and stewarding major givers. Look for features that can help your team with:
Conducting prospect research and identifying key prospects.
Understanding all information relevant to a specific prospect or proposal.
Scheduling follow-up activities in your cultivation process automatically.
Monitoring return on investment, donor retention, proposals, segments, and other key metrics.
When your nonprofit is able to quantify as much of this process as it can, you can strengthen your strategy and ensure consistency and predictability throughout your major gift process.
Providing accountability through moves management is a key strategy for soliciting major gifts, and your software is vital to that strategy.
Reporting and analysis.
Your nonprofit wants to constantly improve and strengthen its fundraising results, and it can't do it without complete and accurate reporting and business intelligence capabilities.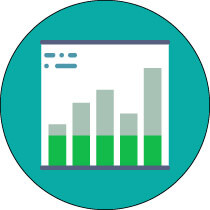 While the types of reports that your organization will need depend heavily upon the specifications of the organization itself, there are some features that almost every nonprofit can benefit from:
Scheduling options to trigger reports to run automatically.
Analysis of donors, appeals, gifts, opportunities, and more.
ROI reports for events, fundraising campaigns, and appeals.
Reports for individual units, like offices or chapters of larger nonprofits.
Ability to build custom reports based on your nonprofit's needs.
Data-driven decisions are smarter decisions. When your organization is able to crunch all of its numbers down into one, easily understandable report, your whole team benefits.
---

5. How do I choose the right donor management software provider?
When learning about different donor management software options, you should remember that picking the software is only half of the entire decision. Don't forget to ask the provider about the services they offer before, during, and after the purchase.
We've compiled a list of things to think about when considering different providers.
1. Your annual budget and donor population.
Different software solutions are built for different sizes of organizations. Some are built for smaller communities, others for national organizations with multiple chapters.
Think about your own nonprofit. What's your current fundraising capacity? Are you a single organization, an individual chapter of a larger organization, or the corporate headquarters of a massive nonprofit? How many major donors do you solicit a year?
This status can help determine which provider to choose. But also keep in mind your plans and goals for one year, five years, or even ten years out. Don't get stuck with a platform you have to replace every three years because you're growing too fast.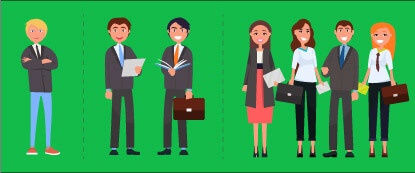 2. Their configuration and implementation strategy.
When discussing which software provider you want to work with, talk to them about the customizations that you'll need. Some common options that nonprofits need are:
Custom reporting options.
Development of special triggers.
Custom fields on different screens.
But beyond the software itself, you want a provider that will work with your nonprofit's team step-by-step through the process of implementation, installation, and training.
Customer support is an important service, especially for nonprofits that need a system with limited downtime and near-constant functionality. If something goes wrong, you want to be able to contact your provider and get help as soon as you can.
3. Integration and data migration support.
If you purchase a donor management software solution, you know that it needs to fit in with your other software programs and share data seamlessly.
When considering a software provider, remember to ask them about the following issues:
Will they help you migrate data from your previous donor data manager into your new software solution?
Will they help you create an integration strategy to ensure that data moves smoothly between different aspects of your nonprofit's technology suite?
Will they help you develop strategies for your new technology-enabled processes?
While your IT folks will be able to help with your integration, it is crucial that the team that built your new software stay involved as well.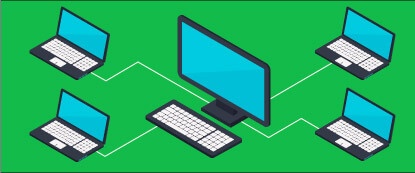 ---

6. How do I maximize my software use post-purchase?
So you made your donor management software decision. Congratulations! But just because you have the software doesn't mean that you'll automatically start drawing in major gifts.
How can you make sure that you're using your software to its greatest capacity?
Learn from your reports to create actionable insights. Use your reporting tool to create a plan for the future. Consider which fundraising avenues are most successful, which communication strategies generate the highest ROI, and which marketing campaigns create the most impressions.
Consider your solicitation timelines to strengthen your strategy. Where are your donors dropping out? If you can pinpoint at which part of the process you're losing the most prospects, you can improve your process.
Create or strengthen your membership management strategy. With membership activity and information tracked within your software, you can learn about members' preferences, generate billings, and analyze trends. Use these insights to drive engagement.

The way you use your software is up to you, but you need the right solution and the right provider to get you on the right track. With these suggestions in mind, you're ready to help your organization choose the right donor management software.
---
If you enjoyed this article and want to learn more about fundraising best practices, software suggestions, and more, check out a few of our favorite resources:
Donor Database Management. To learn more about the ClearView CRM's donor management capabilities, check out this guide to our platform and see if it'll be the right fit for your nonprofit.
The Ultimate Nonprofit's Guide to End-of-Year Giving. Take a look at this comprehensive guide from our friends at OneCause to learn about how to maximize your end-of-year fundraising campaign and set yourself up for success in the coming year.
3 Ways to Increase Fundraising Results. Read our easy list of fun ideas for strengthening your fundraising results by standing out and engaging your nonprofit's community.