Major Gifts | 5 Strategies to Solicit High-Impact Donors
| Written by
ClearView CRM
|

Back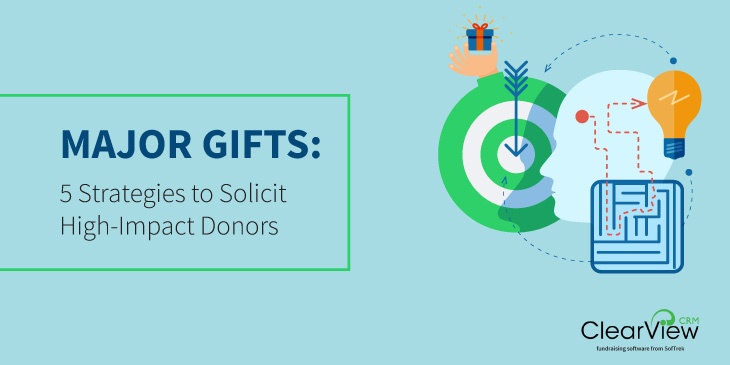 Major gifts come in many different sizes, based on the size and fundraising needs of your nonprofit, but each and every one is treasured. And as a nonprofit professional, you already know what a game-changer a gift of that size can be for your organization.
No matter if your nonprofit considers a major gift to be $1,000 or $100,000, actively soliciting these gifts can wildly change your nonprofit's ability to serve its cause.
To receive more of these valuable resources, try implementing the following techniques to maximize your major gift fundraising strategy:
Major gift solicitation is an important part of a sustainable long-term fundraising effort, so read on to learn more about these ideas to strengthen your major gifts fundraising strategy.

1. Keep your major giving CRM organized and actionable.
Data is the most important part of a functional major gifts fundraising strategy. Half of the work is finding valuable prospects to cultivate into donors.
Your major giving CRM already maintains all of your donor profiles, but are you maximizing the utility of this resource to find potential major givers? Your CRM can be the perfect launchpad for your prospect research.
To make sure that your major gifts officers are able to use your CRM to the best of their abilities, follow these best practices:
Consolidate and delete duplicate entries. Every donor should have one, and only one, profile. If you have multiple for a single person, use the merge functionality in your CRM to combine the relevant information from both profiles.
Ensure that all of your major gifts officers are inputting data into the CRM in a standardized way. Create a process across your organization for how things are noted in the profiles. This strategy ensures information isn't overlooked because of how it's written out.

A powerful system like ClearView CRM will offer duplicate resolution tools, so that your nonprofit can spend less time and money cleaning your data and more time cultivating donors.
Once your CRM is in tip-top shape, you can start to use it to form your cultivation strategies.
Conduct donor research for everyone in your major giving software. Having a CRM like ClearView that integrates easily with wealth screening programs can make this step much simpler.
Donor research will reveal affinity and capacity for giving, based on the following categories of indicators:
Giving history to your nonprofit, other nonprofits, or political organizations.
Wealth indicators like home ownership, boat/plane/vehicle ownership, SEC holdings, etc.

Input these findings into donors profiles in a standardized way, so that your major gifts officers can use them to segment your donors when you're ready to determine who to approach for cultivation as a major donor.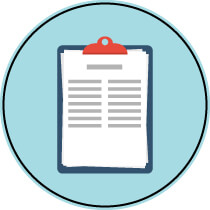 Your major gift officers should also be conducting prospect research on those in your community who have volunteered or attended events but haven't become donors yet, or who either haven't become a supporter of your organization yet.
Anyone that they discover to have an affinity and capacity for giving should be given their own profile in your CRM, so that they can be cultivated in the same manner as your current donors.
Once you've conducted the necessary research into your donors and the prospects in your community, use your CRM's list manager tools to split your profile bank into different categories based on what you learned.
This segmentation should give your major gifts officers a solid list of potential major givers to begin to cultivate.

2. Have your major gifts officers input all interactions and discussions into your CRM.
One of the hardest things about cultivating major donors, especially for larger nonprofits with a whole team of major gifts officers, is ensuring that all interactions with potential major givers are documented.
A 'move' is any interaction between a major gifts officer and a potential donor that takes the relationship one step closer to a successful ask.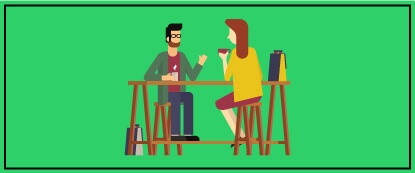 The major gifts officer's relationship-building techniques with prospects should be documented in the potential donor's profile in the CRM, so that the next officer to interact with the prospect knows where they stand.
Tracking every move in the solicitation process is beneficial for both the prospect and your organization. It ensures that you're able to follow up with every prospect for the best possible outcome, and can help you track benchmarks in your solicitation process.
Keeping track of each interaction in a donor profile can also prevent relationship-damaging slip-ups, like using an incorrect last name or forgetting that your organization has already received a major gift from someone.
Other important data points to include in a prospect's profile are:
Personal details such as motivations to give, hobbies, alma mater, employer, etc.
Familial or social connections, such as children, spouses, and relationships with other donors or supporters or the nonprofit.

If your potential donor is friends with someone involved with your nonprofit, reach out to the friend to include them in the cultivation efforts.
If you're using ClearView CRM and its accompanying mobile app, you can take your donor profiles on the go and update them as soon as the interaction is over. This will help you ensure you don't forget any details.
Consistency and predictability are key for building donor relationships, so make sure that your CRM helps you cultivate donors in a steady and consistent way.

3. Support your major gifts officers by automating the follow-up process.
If you're using a robust major giving software like ClearView CRM, you should be able to build a schedule of stages for your cultivation efforts. Stage 1 would be first call and meeting, stage 2 would be an office tour, stage 3 attending an event… And so on and so forth depending on your nonprofit's best practices.
But no matter what stages you take your prospects through, your major gifts fundraising strategy relies on consistency and communication within your team.
Use your major giving CRM to ensure that your team is always on the same page, and to automate parts of the cultivation process that sometimes slip through the cracks. What can you do with an effective CRM on your side?
Automate emails or direct mail to be sent out after meetings or calls with prospects.
Schedule follow-up calls or meetings for your major gifts officers.
Alert team members when a prospect moves from one stage to another.

Creating a schedule for cultivation and solicitation gives your nonprofit an advantage by giving your major gifts officers a way to measure how the cultivation process is going for any given prospect.
If the process is moving faster than expected, a major gifts officer might be able to increase the size of a gift because of the prospect's demonstrated interest. If it's moving slower, the officer might realize that the prospect needs more one-on-one attention.
Keeping your nonprofit off the back burner and in the forefront of the prospect's mind is an important part of any successful major gifts fundraising strategy.

4. Engage with your prospects in different ways.
Seeing your prospects in different situations is key to getting a more well-rounded view of them as a person. And knowing them well is key to a successful major gift solicitation!
In order to get this panoramic view of a prospect, invite them to a variety of engagement events and interact with them one-on-one. Some potential events to invite prospects to are:
Tours of your office, so they can see what you do every day.
Volunteer opportunities, so they can experience the impact of your nonprofit firsthand.
VIP events, so they see that major donors are treated as an important part of your mission.
Meetings with your leadership or board, so they can get to know them and ask any questions.
These opportunities for engagement are valuable for two reasons.
First, they allow the major gifts officer primarily responsible for solicitation the chance to get to know a prospect in a variety of settings and gauge what about the mission inspires them, what projects of the nonprofit's are they most interested or invested in, and so on.
Second, it gives the prospect the opportunity to learn about the organization and mission they're being asked to support. Donating a large amount of money isn't something that is done willy-nilly, so it's important that the prospect have the option to see what happens inside the organization.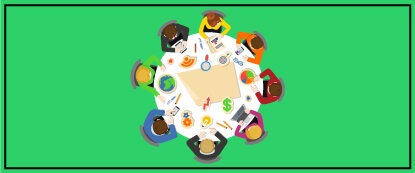 Another option for a prospect engagement opportunity is hosting an informational luncheon. This is a great way to bring together everyone involved—prospects, major gift officers, executives, heads of departments—and have a conversation about upcoming projects and how things are done, without being too formal.
Track which events prospects attend in your major giving CRM, and determine what kinds of engagement opportunities excite them the most. Then make sure that they have as many chances as possible to engage with your nonprofit in this way!

5. Use your CRM data to completely personalize an ask.
The ask, or the official solicitation, is one of the last steps in the major gifts fundraising strategy. This is when you sit down with the donor, prove that you've gotten to know them and that donating to your organization aligns with their wishes, and then ask for a donation.
The key to a successful solicitation is proof that a relationship has been built between the prospect and your nonprofit.
Everything you learned about the prospect during the cultivation period should have been input into your CRM along the way, giving you insight into their values, passions, life experiences, and other factors that influence how they feel about your cause.
To be as prepared for your ask as possible, consider some of the following strategies:
Plan out your half of the conversation in a script before the ask, so that you have prepared answers for the most common questions. This can also help you make sure that you don't forget anything.
Prepare printed marketing materials for your prospect to look over as you make the ask. Your major gifts officers can make templates for the required materials, and then you can personalize them to each prospect's needs.
While you should come with a specific number in mind based on your prospect research data, have backup plans. Instead of donating the gift all at once, offer the option of the same gift broken up and given over months or years, or ask for a smaller recurring gift.
Don't forget to emphasize that the relationship with the prospect doesn't end after they've given a major gift. Stewardship on the part of the nonprofit is a key part of a donor relationship. Your organization should acknowledge, recognize, and thank major donors whenever possible.
An ask should be a true dialogue between you and the prospect, so don't forget to listen. The data from your major giving CRM will get you to this point, but don't forget to listen to the person sitting in front of you.
A personal relationship between the prospect and the organization is the most important factor in their decision to make a major gift. Make it as easy as possible for your nonprofit to hold up its side of that balance by using your CRM to track all important information about the prospect.
A specific, personalized ask is the best tactic in a major gifts fundraising strategy.
A strong major gifts fundraising strategy can be a game changer for your nonprofit's overall fundraising capacity. If you're interested in learning more about major gifts, check out these additional resources: