Ultimate Donor Segmentation Cheat Sheet
| Written by
ClearView CRM
|

Back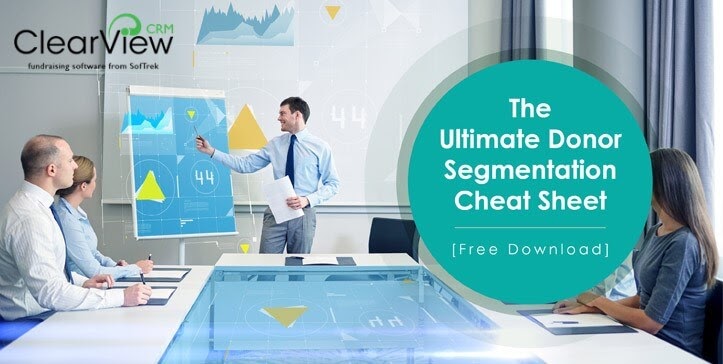 The Ultimate Donor Segmentation Cheat Sheet [Free Download]
All nonprofits know that each of their supporters is a wonderfully unique individual. But is your nonprofit taking advantage of that knowledge to the fullest extent?
Communication strategies are the most successful when they take into account their audience's values, passions, and ways of life. For example, an animal shelter's solicitations are going to be far better received by a dog owner than someone with an allergy!
Trying to write the perfect ask, holiday letter, or happy birthday note for your whole donor population in one go will lead only to disappointment and generalizations. Instead, to strengthen your communication and development strategies, you should consider breaking down your whole population into smaller, more similar groups.
This strategy is called donor segmentation, and it is one of the most useful tactics in a nonprofit's communication arsenal. To be able to use this strategy to the best of your abilities, you have to do three things:
To help you, we've assembled this guide and created a free download of the ultimate donor segmentation cheat sheet. If you're ready to learn more about donor segmentation and how it can help your nonprofit, let's jump in!

---

1. What is donor segmentation?
Donor segmentation is the practice of separating your overall donor population into smaller groups. Your large, heterogeneous donor population can't all be effectively reached with the same communication efforts. The data stored in your donor database could collect dust, or you could use it to understand your donors better.
Use the information you have to break down this population into smaller, more homogeneous groups. A little more effort in creating a more specific, targeted email solicitation can lead to serious increases in opened emails, click-through rates, and donations!
When donors feel as though your communications are directed at them, they will be more inspired to read them or act upon the information delivered.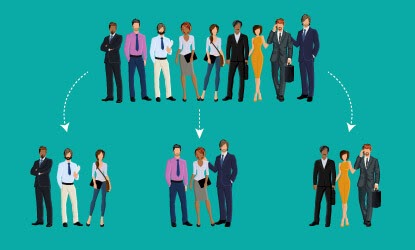 Now that you know what donor segmentation is, let's discuss why your nonprofit needs to include it in its communication strategies.
What are the benefits of a segmentation strategy?
Because using a segmentation strategy may seem like more work than your current communication strategy, it's imperative that you understand how much a segmentation strategy can benefit your nonprofit.
The first way that segmentation can benefit your organization is by saving your nonprofit money! In what areas will you be able to save money by segmenting your donors?
Segmenting by communication preferences means that you won't have to spend money on direct mail appeals that will go unopened.
Segmenting by event attendance will mean that you don't send invitations that get ignored.
Segmenting by volunteer attendance means that you know who to ask in order to find people willing to work for your organization, which cuts down on other costs for day-to-day activities, events, and outreach.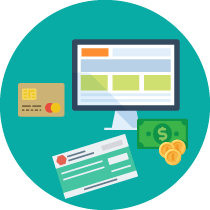 The next way that segmentation strategies help your organization is by strengthening your donor relationships and increasing your retention rates. Segmenting your donor population encourages your organization to know more about your donors, which deepens the connection between you and your donor.
When an organization proves to a donor that it has been paying attention and understands a donors' passions and preferences, the donor feels appreciated and valued. Then, they are far more likely to remain an active part of your organization's community than if they feel like they're just a wallet to your organization.
Asking for donations is a difficult process, but it can be made easier through donor segmentation! When you know what inspires people to give, as well as how they like to give, your asks will be more personal and meaningful.
Now that you know what donor segmentation is and why you should be employing this strategy, it's time to learn how to create segments!
---

2. How to Create Donor Segments
Creating donor segments will vary from organization to organization, based on what your mission is and the types of people that get involved! The process isn't complicated, but it requires a fundamental understanding of your donors based on different factors.
It's similar to creating target personas, or fictional versions of your target audience that help you understand your real-life audience. Once you've created your persona, you break down the persona into measurable attributes that help make up their whole identity.
Those measurable attributes are the demographics by which you should segment your donor population! Understanding how these identifiable factors influence your donors' lives is the mechanism that makes segmentation work.
Now, let's break down the most common and useful ways to segment donors.
Basic demographics.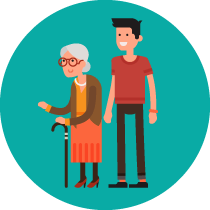 Age.
Gender.
Parental status.
Marital status.
Retirement status.
Location or region.
Giving preferences.
Cash.
Check.
Credit or debit card.
Online.
In-person.
Via direct mail.
Communication preferences.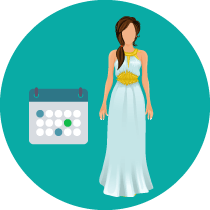 Text.
Email.
Social media.
Phone call.
Direct mail.
Engagement history.
Event attendance.
Donation history including amounts and campaigns.
Volunteer attendance.
These different ways to segment a donor population are useful for different strategies and outreach tactics. In the next section, we'll cover how exactly you can use these segments in your nonprofit's communication techniques.
---

3. Carrying Out a Segmentation Strategy
Now that you know which donor data points to segment by, it's time to learn how to use these points to strengthen relationships, increase fundraising success, and optimize your communication strategy.
Every way that you can segment your donors can be divided into one of three categories:
Sociological. These points refer to a person's outward-facing identity – their social, cultural, economic, or lifestyle-related traits. This includes gender, ethnicity, and age.
Psychological. These points are related to a person's internal sense of identity. These points aren't tied to social groups, but instead to a person's values, passions, and interests. Noting what inspires someone to donate gives your organization insight into someone's psyche.
Preferential. These points are related also to a person's internal values but in a different way than psychological. When given a choice between one thing or another, what a person decides on is a preferential factor. Preferential donor information includes giving methods and communication preferences.
The first step to having a useful segmentation strategy is to make sure that the data that you have on your donors is organized in an actionable way.
Organize Your CRM's Donor Information
Your nonprofit's constituent relationship management software, also sometimes known as donor management software, is going to be the foundation of your donor segmentation strategy. This is where you'll store all the information that you have about your donor.
But how can you make sure that you're storing it in a way that keeps it organized and functional? If you can't find the data, it won't be helpful.
While planning your segmentation strategy, consider also taking a look at your nonprofit's data management procedures and making some changes. If your team members aren't putting data into your donor profiles in a standardized way, it will be difficult to use that data to create segments.
Standardizing data input is also a best practice so that you always know that you have the most up-to-date data available for a donor.
Next, you should follow data storage best practices and make sure that you're deleting duplicate entries and consolidating the information between the repeated entries into one, up-to-date, accurate profile.
Duplicate profiles might lead to donors receiving repeated communications, which can be annoying at best and infuriating at worse. Plus, having repeated entries can create inflation in your data analysis, which is bad for your nonprofit's strategy.
The easiest way to start your segmentation strategy is by investing in a smart nonprofit CRM. Pick one with deduplication features, as well as the ability to customize your profiles so that you can customize your segments.
Create Communication Strategies Based on Segments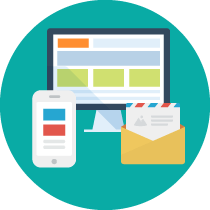 Now that you've split your donor community into smaller groups, plan how you're going to reach out effectively to each group. Based on how you segmented your groups—by preference, sociological factor, or psychology—this can look different.
If you segmented by preferential data, make sure that you provide donors with the information or method that they prefer. For example, if someone's preferred communication method is via email, don't send them direct mail asks or call them. Just send them an email, personalized with their name and history with the organization!
Some other strategies for segmentation include:
Sending personalized invitations to donors that have a history of attending events.
Sending direct mail asks and pre-stamped return envelopes to donors that prefer donating through the mail to other methods.
Personalize asks to emphasize different aspects of your mission, depending on what campaigns have inspired that donor to give before.
Once you know how to segment your donors, you can consider your own donor population and choose which segmentation tactics will be most effective for your community.
Develop a Major Giving Pipeline Using Segmentation
Once you've segmented your donor population by donation amount and frequency, you can target certain demographics with stewardship efforts and try to cultivate those donors towards increasing their giving amount.
A donor with a history of donations to your organization has already proven their dedication to your cause—instead of letting them fall to the wayside, look at their donation track record and consider how it has changed over time.
Do they donate the same amount every time? Do they sign up for recurring gifts? Have their donations increased over time?
When you identify donors like this, you can use the information you know about them to start building a stronger relationship with them and considering whether or not they are a valuable prospect for a mid-size or major gift.
Segmenting your donors can help your organization build or strengthen a major giving program, because it allows you to quantitatively analyze your donor population and find opportunities for cultivation.
Maintaining Your Segmentation Strategy
Once you've determined the most valuable segments for your donor population, you may think that the job is done. But not quite!
The individuals in your community are constantly changing and adapting as they live and grow, and your nonprofit should too! Don't forget to keep up with your donors' lives as they move, get new phone numbers or email addresses, or undergo any other life changes.
Staying up-to-date with your donors has two separate benefits. First, you can stay in contact with them more easily, which keeps your fundraising strategy strong and your nonprofit up and running. Second, keeping up with your donors makes them feel valued and appreciated, which is important for your relationship with them!
People in your donor pool will move from segment to segment, so make sure that you allow them to change and grow by adapting your outreach strategies to match them.
And if you feel as though you're missing information, don't be afraid to reach out directly and ask them! They'll appreciate the effort that you're putting in, and you'll be able to maintain your relationship with them.
---
Donor segmentation is a useful and innovative strategy for optimizing your communication and solicitation tactics. Don't let your donors fall by the wayside because you're not reaching out to them in the best way for them!
If you're looking for more information about fundraising strategies and best practices, check out some of our favorite additional resources:
Email Marketing. Learn more about what a robust donor management software can do for your email marketing strategy with our breakdown of vital features!
Nonprofit Email Newsletters. Is your newsletter as strong as it could be? Read these tips from Snowball Fundraising to learn more communication best practices.
Donor Management Software. Learn more about our donor management software, ClearView CRM!