---
PRODUCT NEWS
ClearView 2.0: Your Business Intelligence Solution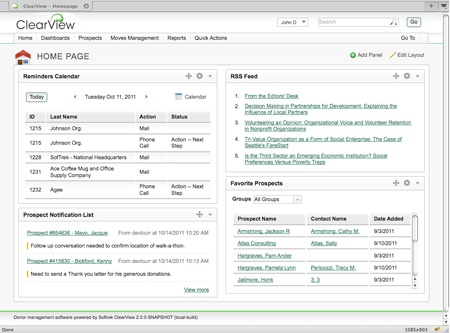 The highlight of SofTrek's 2011 Users' Conference this past August was the unveiling of the newest version of our signature decision support system, ClearView 2.0. More than simply a donor management system or dashboarding tool, it is a business intelligence solution.

What is business intelligence? According to Forrester Research, a leading technical research company, "Business intelligence is a set of methodologies, processes, architectures, and technologies that transform raw data into meaningful and useful information. It allows business users to make informed decisions with real-time data that can put a company ahead of its competitors."


Our team at SofTrek has seen statistical evidence that shows more and more organizations tying business intelligence to improved performance and competitiveness. What this means for you as a development professional is that, if your nonprofit can more effectively and efficiently use prospect and giving information, you'll have a distinct advantage when it comes to achieving your organization's fundraising goals. With the new capabilities developed for ClearView 2.0, SofTrek can help you do that.
The original version of ClearView already offers a customized, user-friendly interface that provides real-time data access. For our new 2.0 version, we've expanded on this with an improved look and feel, additional customized capabilities, new dashboarding functionality, and enhanced analytical reporting options. And, because of our unique database configuration, data in ClearView is immediately linked to all other SofTrek and partner products. This type of fully realized integration is something that no other donor management software company can provide.

Please contact us to learn more about how ClearView 2.0 can help you better know your donors, strengthen your relationships, and improve your organization's fundraising results.
---
PARTNER NEWS
SofTrek Product Advisory Council
At SofTrek, we pride ourselves on being user-centric. We take the requirements of the organizations we work with very seriously and we strive to continually enhance and improve our offerings to meet their needs. To help us in this effort, we are privileged to work closely with the SofTrek Product Advisory Council (PAC), comprised of representatives from among our clients and partners.
Since 2007, we have relied on this valued group of development and technology professionals to assist us in understanding what is important to nonprofits from a donor management perspective, provide feedback on product concepts and prototypes, and offer specific recommendations on feature enhancements and new capabilities.
For example, the PAC is playing a key role in our newly revitalized Product Ideas program. Users submit their ideas for new products or recommend enhancements to current ones and our SofTrek team discusses their input with our Council members. Their recommendations weigh heavily on whether or not an idea goes into production.
PAC members are also integral to the success of SofTrek's annual Users' Conference. This year, the Council held a roundtable discussion with attendees that centered on the purpose of SofTrek's Product Advisory Council and the impact they have had on the development of ClearView. They also gathered input from the Conference attendees on topics ranging from mobile fundraising applications to data warehousing and reporting tools.
As we work on developing our newest version of ClearView, the guidance and leadership of the PAC will be invaluable. As each project milestone is completed, the SofTrek team will review the progress with PAC members and get their insight and advice. Their participation is integral to the successful development of this product. SofTrek is proud to have their partnership as we continually develop and improve our efforts to help nonprofits achieve success.
---
PRODUCT INFO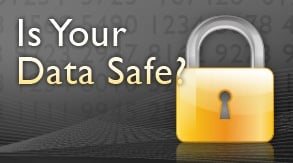 Credit Card Data Vaulting: Is Your Data Safe?
If not, it could cost you time, money and your organization's reputation. A breach of security resulting in the theft of credit card information could have devastating effects due both to steep penalties for non-compliance and the damage to your organization's reputation.

As an ever-increasing number of your constituents use credit cards to make their donations, your need for safe data handling is greater than ever. Payment Card Industry (PCI) Standard regulations have been established through a collaborative effort by the major credit card companies. They outline a specific set of security requirements your organization must follow for handling and storing sensitive credit card data. You can learn more by viewing these frequently asked questions.

SofTrek can help you navigate these requirements and bring you, and your organization, peace of mind. Our data vaulting solution eliminates the burden for your organization to become PCI certified by safely removing all credit card information from your database. Credit card information is sent fully encrypted via the web to be securely stored in our PCI-compliant data center. Our Credit Card Vaulting service is an on-demand, hosted solution; this means there is no hardware or software to purchase or install.

In September, the NonProfit Technology News reviewed SofTrek's Credit Card Vaulting Service and deemed it "the perfect solution for all types of nonprofit organizations that accept or process payment cards." They also noted that "it takes the hassle out of making sure your organization is PCI Compliant." Check out the entire article here!

With SofTrek's Credit Card Vaulting Service, you'll have the ability to inform your clients that you are following PABP (Payment Application Best Practices) and PA-DSS, you will avoid the cost and hassle of getting and maintaining PCI certification, and you can stop worrying about the security implications of storing credit card information on your premises.

Contact us to learn more about how SofTrek's Credit Card Vaulting service can benefit your organization.
---
NEWS
SofTrek is on Facebook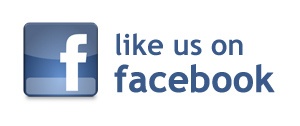 We Want You to "Like" Us…SofTrek is now on Facebook!
In an effort to provide our clients and friends with an additional way to connect with our products and services, SofTrek has created a Facebook page which can be accessed using the following link: https://www.facebook.com/SofTrekCorporation
This new page has details about our company and what we do, links to the website, and information about our clients and business partners. We plan to continually update our Facebook wall with news about product developments and the ways our decision support system can help nonprofits with the work that they do.

If you're a Facebook user, please take a moment to visit the new site and "like" us. We welcome your input, as well. If you have any ideas about things you'd like to see on our Facebook page, please email us at product-ideas@softrek.com and let us know your thoughts.
---
EVENTS
2011 Users' Conference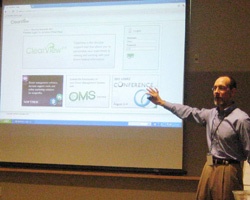 SofTrek's 2011 Users' Conference has successfully concluded and we were pleased to welcome a large number of SofTrek clients from right here on the East Coast to as far away as California and Colorado. The two-day event brought our nonprofit users together in Niagara Falls, New York, to learn more about fundraising trends, decision support tools and new donor management solutions.

Topics included the unveiling of SofTrek's 2.0 version of ClearView, integrated email marketing solutions with Constant Contact, prospect research with Wealth Engine, duplicate resolution strategies, reporting with Jaspersoft, and our Online Marketing Suite.

The event was a positive experience for both our nonprofit guests and the SofTrek staff members who attended.

If you have questions, comments, or would like more information on the 2012 User's Conference, please contact us at usersconference@softrek.com.
---
LINKS AND RESOURCES
As we all know, the internet is a wealth of information and it's hard sometimes to sort through it all. To help you, we here at SofTrek thought we would share with you some links to popular fundraising blogs that we've found to be particularly helpful and interesting. We hope you will find them useful, as well.
fundsvces.org: http://fundsvcs.ncsu.edu/
Developed by John H. Taylor, Associate Vice Chancellor for Advancement Services at North Carolina State University, this listserv provides great resources for advancement and development professionals to share ideas and materials and help support the best standards and practices for nonprofit management in academic and other nonprofit environments.

Katya's Non-Profit Marketing Blog: http://www.nonprofitmarketingblog.com/
Network for Good's Katya Andresen shares valuable insights on nonprofit marketing, fundraising, social media and doing good in the world better and faster.

The Agitator: http://www.theagitator.net/
This site provides nonprofit fundraising and marketing strategies, trends and tips.

Fired Up Fundraising: http://www.gailperry.com/
Speaker and nonprofit marketing consultant Gail Perry blogs on best practices for fundraising professionals, with particularly good insights on effectively working with board members.
Copyright © 2011 SofTrek Corporation