---
FUNDRAISING INSIGHTS
Effectiveness of Online Fundraising Expected to Grow Significantly in Next 5 Years, Say Development Professionals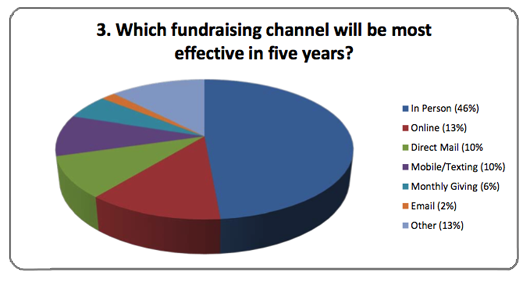 Although they note that fostering personal relationships will continue to be the most effective fundraising method over the next five years, development professionals shared in a recent poll their belief that online fundraising will grow significantly in effectiveness as a fundraising channel within this same timeframe.

SofTrek's survey, which comprised more than 50 attendees at the recent AFP and NTEN conferences, also revealed that donor cultivation is currently considered to be the biggest fundraising challenge.

Contact us to learn more about how SofTrek's products can help you manage all your
multichannel fundraising efforts, including online and personal asks, in one integrated system.
---
FUNDRAISING TECHNOLOGY
Tablets Will Become Our Main Computing Devices, Says Recent Study
In his recent blog post, "Why Tablets Will Become Our Primary Computing Device," Frank Gillett
shares Forrester Research's prediction that tablets will become the preferred, primary device
for millions of people around the world. He notes that contributing factors to this conclusion
include the fact that tablets are convenient, they have longer battery life and better always-on
capabilities than any PC, they are ideal for information consumption, and they prove well-suited
for working in groups.

Predicts Gillett, "As a result of the compelling user experience of Apple's iPad and the content-
focused experience of the Amazon Kindle Fire, and other tablets, global tablet sales will
continue to grow sharply over the next five years. We forecast sales rising from $56 million in 2011 to $375 million in 2016."

In a recent article, "It's Take Your iPad to Work Day," FundRaising Success offers some key
insights into the "bring your own device" trend, where employees decide on the devices they
wish to use for work. The piece notes the importance of several factors in making the use of
tablets or smart phones work, including having a browser-based database system that can cope
with being used in a variety of browsers and can scale from small screens to large.

If tablets truly do become the preferred device, SofTrek is ready to help you stay on the cutting edge with ClearView 2.0 - it runs seamlessly on an iPad or any other mobile device!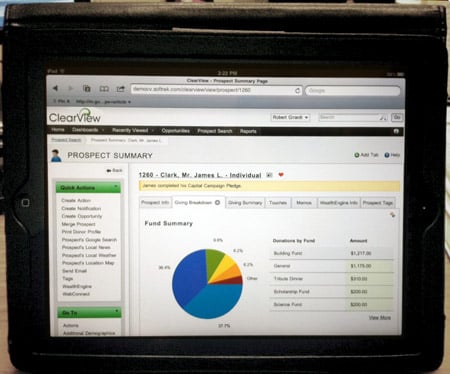 ---
PRODUCT NEWS
Introducing…ClearView 2.0!
On May 1, SofTrek launched the 2.0 version of ClearView, our premier donor management
system that uses the latest technology to make it easier for nonprofits to raise more money.
ClearView lets you
• track everything your organization does around fundraising—staff efforts, campaigns,
marketing activities—against strategic goals.

• align your fundraising efforts through the gamut of marketing channels – from initiating
personal contacts with prospects and managing events, to sending email communication
to thousands of donors.

• guide and track all phases of solicitation and stewardship to take full advantage of
every fundraising opportunity. That includes coordinating the calls, meetings, emails,
proposals and other activities that help you pursue those all-important major and
planned gifts.

• instantly access information about your constituents – notes, current demographic and
biographical information, interaction with your organization, and giving history – in a
clear, easily understandable format.

Discover how ClearView 2.0, combined with PledgeMaker, can help make it easier for you to
raise money. For more information, please visit the SofTrek website at www.softrek.com or click
here to schedule a demo of ClearView 2.0.


Early Praise for ClearView
Positive reviews are starting to come in! In its assessment of ClearView 2.0, "Nonprofit
Technology News" notes, "It's the kind of tool that would not only replace a more simplistic way
of doing things (such as an existing donor database), but would also introduce new avenues
for the organization to explore (through the opportunities capabilities, for example). It would
definitely be on my list of options to explore if my large organization were looking for a more
streamlined way to collect and use fundraising data." To read more, check out the full article
here.