---
Click "Start Prezi" in the screen above to read the newsletter. Zoom in and out using the +/- magnifying lens at the right of the screen or with your mousewheel.
What Nonprofits Can Learn About Big Data from the For-profit World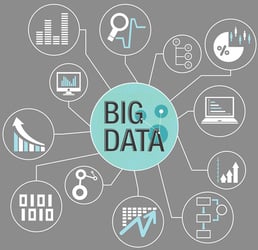 In some ways, "big data" stands where "social media" did eight or so years ago: The phrase is ubiquitous. Few have taken advantage of it. Many wonder if the claims made for its importance are inflated. Those of us in the nonprofit world are not entirely sure yet how it will effect what we do. Yet big data is here, real and already affecting how organizations work. Like many new business trends, big data has made its biggest inroads into corporations that can apply internal resources or hire outside help to implement processes to harvest big data and use it. Fundraising organizations, however, can definitely gain valuable insights from how big data is making a difference right now in the for-profit world. That understanding is important because the use of big data inevitably will increase in our world.
Big Data, Defined

The "Oxford English Dictionary" and Wikipedia define big data in similar ways. Both refer to sets of data so large that their manipulation, analysis and management become difficult to accomplish. In other words, even many standard data-management or data-processing tools just can't handle that much and kind of data. Industry analyst Douglas Laney refines the notion of big data with the "3Vs":
Volume: How much data exists, a number that grows constantly. A 1999 study estimated the world produced about 1.5 billion gigabytes of information in one year. According to IBM, the world produced 2.5 billion gigabytes of data each and every day in 2012.
Variety: The number of types of data. Big data can include structured information (usually data that's organized in a database) and unstructured information (e.g., social media posts, online shopping interactions, YouTube Videos). This variety also is increasing as different data collection points proliferate. The federal government's Open Data Project alone offers more than 120,000 data sets that are available to the public.
Velocity: The speed with which data can be processed.
How for-profits are using big data
#1: Gaining a better understanding of customers
One of the key uses of big data for businesses is to more fully understand customers—drivers of their behavior; their likes and dislikes; places and websites they frequent; why they recommend a company to others; and much more. Companies at the forefront of big data use have added to traditional sources of information unstructured data like social media statistics and browser logs get a clearer and more complete picture of customers.
Why fundraisers should care
Knowing donors inside and out—isn't that Mt. Everest for fundraisers? Big data will greatly flesh out your view of donors and other constituents, telling you in detail what is relevant and important to your constituents.
#2: Targeting customers more effectively
While greater understanding is valuable in and of itself, the payoff to companies is the ability to target customers much more accurately. The predictive models companies can build from big data have become incredibly powerful. Mobile service providers, for instance, use big data to predict customers at risk of leaving, which allows them to take preventive steps. Retailers use big data to identify people who are most likely to buy their products and, arguably even more important, become informal brand ambassadors.
Why fundraisers should care
Nonprofits, in most cases without the deep marketing pockets more typical of corporations, must make every outreach effort count. Your improved knowledge of what moves your constituents will translate into much more targeted, relevant approaches and greater ROI. With increased relevance comes a much greater chance of cutting through the clutter and having your message heard. This benefit doesn't just accrue to direct mail fundraising or the like. Those in your fundraising organization with personal contact with constituents—donor relations reps or front-line fundraisers—can make use of the insights gleaned through big data analysis to know who needs extra care or is ready to make the move to major giver.
#3: Performance Optimization
Big data helps companies perform better as well as market better. Some manufacturers have optimized their assembly lines and delivery schedules by unlocking insights buried in data from servers, machinery, appliances, energy grids, weather forecasts and more. With this information, they also have reduced the expenses related to running their businesses and buying equipment. Railway systems, for instance, analyze big data from maintenance logs, GSP units, weather data, tablets used by staff in the field and sensors in brakes, rails, switches, etc., to automate and improve the scheduling of thousands of trains.
Why fundraisers should care
Optimizing fundraising processes can lead to multiple benefits. As your nonprofit creates and stores data on various kinds of transactions—from gift entry/processing to event registration, action completions and much more—you gain more precise and thorough information on how the processes related to those transactions perform. Analyzing that information can uncover ways to improve and boost performance. Big data collection and analysis also supports better management decisions.
One of the best ways to prepare for the day when your organization can make use of big data is to make sure the data you have now and add in the future is as pristine as it can be. That means defining your data management protocols and making sure your fundraising software can support those rules.
---
The Psychology of Acknowledgements
Most organizations realize the importance of timely gift acknowledgements, which, of course, also serve to satisfy the nonprofit's and donor's IRS reporting obligations. Nonetheless, studies show many nonprofits fail to thank promptly—or even at all. If you find getting out acknowledgements to be an issue, or if your organization thinks of them in simply regulatory terms, you might want to share the very real psychological value of acknowledgements.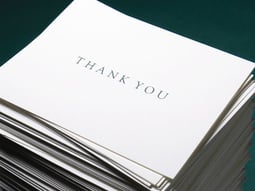 Gonzaga University Professor Monica Bartlett's 2013 study of how gratitude shapes social relations revealed that an expression of gratitude is part of the process of initiating a social bond. A thank-you serves as a signal that the person (or organization) doing the thanking is a good candidate for a future social relationship.
A 2010 study in the "Journal of Personality and Social Psychology" showed that gratitude causes the person being thanked to increase his/her willingness to help again. The reason behind this effect was that those being thanked appreciated that they were needed and felt more valued in a social sense.
Numerous experiments on the notion of "reciprocity" and "reciprocal actions" show the power of a thank-you in strengthening a key social norm: responding in kind to a favor or thanks.back to top
Philanthropic psychologist Jen Shang notes in "The New York Times" that a thank-you note is one of the key first steps on a "journey that this person will travel with the nonprofit to achieve some social goal. Thanking needs to serve the purpose of holding the donor's hand on this exciting journey."
---
A/B Testing for Results
One of the simplest ways you can improve results of appeals, online giving, event promotions and more is to use A/B, or split, testing. Testing's usefulness is often underrated, but a recent podcast on the topic via Roger Dooley's Neuromarketing blog gives ample evidence to the contrary. Dooley interviews testing and conversion optimization expert Justin Rondeau, who explains that testing is vitally important, even when you believe you're using a proven technique. The podcast referenced several of the most-used ways that nonprofits attempt to convert prospects to donors. For instance, many organizations use social proof—showing prospective donors that numbers of others are donating or joining as members, etc.—to encourage giving or membership. Although he focuses on digital marketing, Rondeau's work is entirely applicable to nearly any type of fundraising in addition to online—direct mail, email, etc.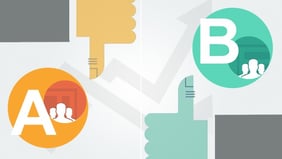 Rondeau cites tests by several organizations in which their social proof-based appeals performed substantially worse than appeals that didn't include social proof. Rondeau's point is not that social proof doesn't work but, rather, that testing can help you avoid the pitfall of relying on conventional wisdom to ensure you achieve the results you want.
Rondeau also discusses the use of trust seals (for nonprofits, a badge from the BBB's Wise Giving Alliance accreditation or CharityEngine endorsement), stock photography and other techniques and their effect on results. Listen to the entire interview here.