---
Click "Start Prezi" in the screen above to read the newsletter. Zoom in and out using the +/- magnifying lens at the right of the screen or with your mousewheel.
9 Must-ask Questions About Fundraising Software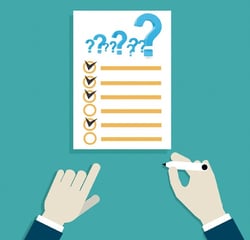 Most fundraising organizations often look closely at the capabilities of their fundraising software. Is it getting us the data everyone in our organization needs? Does it help grow our donor relationships? Does it help us work more efficiently? When you're in a reflective mode, some questions are more equal than others.
In addition to basics about functionality, you should know the answers to other questions that get at some of the most important, but sometimes overlooked, aspects of a nonprofit CRM or fundraising software system. The answers reveal a great deal about the in-depth capabilities of the system you use and any that you might consider in the future. In fact, the answers to these questions are arguably even more important than the answers to basics like features and pricing
1: What is the vision and product roadmap for the system?
The system you use and any you might consider for the future could have wonderful features today. Your organization, however, needs a system for today and for years from now. Make sure vendors can clearly explain their plans for their system in the next several years. Be alert for vendors offering outdated client/server technology today while planning to require your purchase of an expensive upgrade in a few years.
2: Can this system grow with us?
Your organization is not static, so systems must be scalable—that is, they must be able to increase capacity to handle greater workloads. Your system's capacity should easily grow with your organization, accommodating any number of users and constituent records. Even if you never plan to grow that large, you should be confident that millions of records and hundreds of users would never be a problem.
3: Does this system align with our business processes?
You work with constituents and constituent data in the way that makes sense for your organization. You should be able to configure any fundraising system you use to work the way you do, not vice versa. The ideal platforms accommodate extensive configuration without the downside of having custom software. Do you want an easy way to assign soft credits? Do you call a spouse a "connection?" The system should be able to allow for your unique needs.
4: Is the system developer committed to integration?
Does your fundraising software easily connect to other systems? Have you seen new integrations regularly announced with new system releases? Does the vendor of any fundraising software you're considering have a track record of working closely with other vendors to share data and processes among systems? A look at their current system integrations (finance systems, content management systems and others) will offer a good indication if they actually do. Unless you want to live in your vendor's walled garden, make sure they play nicely with others.
5: Does this system help us improve our major gift effort?
The key to effective major gift solicitation is having a full picture of a prospective major giver's relationship with your organization. Does your current system feature a comprehensive constituent relationship management (contact management) platform to support annual and long-term development efforts for major gift programs? (That includes tools for forecasting, reporting and analysis.) The system also should run on tablets and other mobile devices on which major gift officers often rely.
6: How does this system safeguard constituent data in the cloud?
Do you know your vendor's security strategy? With increasing online giving and growing availability of data of all types, make sure your vendor can specify how its security strategy keeps sensitive donor information safe. Cloud-based systems should help you meet data governance rules, have well-established policies for disaster recovery and PCI compliance and meet all appropriate regulations and standards.
7: Does this system empower multi-channel fundraising?
More and more NPOs are running sophisticated multi-channel fundraising campaigns. Any system you use or consider should not only support large, complex direct-mail segmentation for online and offline campaigns but also offer tools to support major and planned giving, including capital campaign management.
8: Does this system support our national/chapter organizational structure?
Your chapters shouldn't get less out of a system just because they're not national headquarters. Fundraising software systems should have built-in national/chapter organization functions. They should also be able to enforce rules about how chapters share, see and access data.
9: Do we have a development environment?
If you decide to move to a new system, a complete development environment should be a mandatory part of any implementation. Ask vendors if they include all of your data in a test system at no charge, allowing you to test integrations and other system changes without affecting your live data.
Remember, your organization's goal is not simply to record data in a nonprofit CRM or fundraising software. Your ultimate goal is to make sure that your system improves the way you interact with all your constituents, helps you work more efficiently and gives you the information you need when you need it.
---
A Year-end Appeal that Compels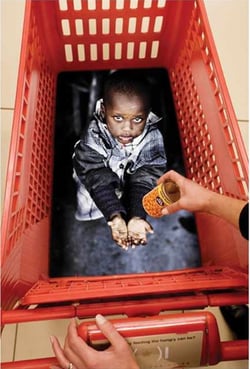 Will your year-end appeal be as compelling as this? Feed SA, a South African nonprofit devoted to feeding disadvantaged people throughout the country, wanted to target potential donors efficiently in order to increase contributions to its food pantry. The organization placed decals of hungry, begging children at the bottom of carts in supermarkets that were collection points for food donations.

This message works for several reasons:
It makes the need glaringly apparent.
It's highly targeted at people who are already shopping
It reminds shoppers they can easily and quickly make a donation on their way out of the store.
t uses an image taken from the shopper's perspective, which makes the picture feel more real and increases the chances that the shopper will pay attention.
If you're thinking about your year-end appeal right now, ask yourself how you can adapt these tactics to grow your donors' likelihood to give.
---
3 Ways to Grow Your Active Donor Base with Data, Part 1
Without a healthy active donor base, you're in trouble. That's a truism all nonprofit fundraisers acknowledge. Growing the number of active donors is a constant process, but you can take steps today to boost that effort. The following strategies focus on reactivating lapsed donors and acquiring new names. Upgrading current donors is certainly important, but these folks are already active givers.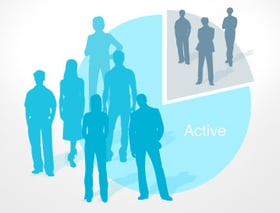 For most nonprofits, addressing attrition is the key to growing a healthy active list. Most also recognize the need to generate growth in new donors. Making sure the data your organization has is working the way it should can address both needs and translate to better results. And, no, your data doesn't have to be "big." You can make use of data already in your systems to encourage growth.
Tighten Up Data Management
Data management is the administrative process by which your organization acquires, validates, stores, protects and processes the data it needs. The result of good data management is data that's accessible, reliable, timely and accurate enough to satisfy the needs of anyone who uses it.
If your data is not satisfying everyone—if it, in fact, gives people heartburn—try a few of these tactics to tighten up your data management.
Most important and a best practice:Merge all your databases--donor, volunteer and event, even shadow--into one main list. Also, integrate your online database, if you have one. So many benefits here: If someone makes a change (e.g., snowbirds indicate their preferred seasonal addresses), everyone has access to the information. Incorrect data due to double entries decreases. Any information captured online immediately appears in the main database. The list goes on.
Standardize how you collect data. First, determine what donor and prospect information is required when a record enters the system, whether by manual entry or online capture. Also, require the use of USPS-standard address formats. A further step is to expand your data collection to include information you might not currently store, such as mail records that show appeals, responses to appeals or giving channel breakdowns.
Standardized your workflows. Adopt and communicate a consistent way to code information, and build that into your system. For instance, make mandatory certain information (say, source codes showing where donors come from) so that anyone who adds a record into the system has no choice but to enter the info.
Implement a National Change of Address (NCOA) and/or "new move list" service (from companies like SofTrek partner Melissa Data) to ensure that current addresses are always available even on inactive donors. Since U.S. Census Bureau statistics indicate around 15% of people change addresses in a year, this move alone could greatly increase the quality of your contact data.