No matter the size of your nonprofit, you're always looking for ways to improve your organization's internal operations, fundraising strategy and overall impact on the world. The amazing thing is there is someone else who wants all of these things for you, too: your fundraising consultant.
Fundraising consultants can be your greatest allies in taking your nonprofit to the next level. Before you start your next big project or create a fundraising strategy, read through this guide to see what a consultant can do for you!
Key activities a fundraising consultant can help with include:
Hiring a fundraising consultant is a great first step to launch your nonprofit's fundraising. Let's dive in!

1. Fundraising Feasibility Study
One of the first step to launching a major fundraising campaign is conducting a feasibility study to ensure you have the fundraising capacity and community support necessary to complete the effort.
Major fundraising campaigns, like capital campaigns, require a fair amount of research before the campaign even begins. Hire a fundraising consultant to guide you through this research process. These research steps of your feasibility study include:
Researching and assessing your past fundraising strategies.
Interviewing major stakeholders in your nonprofit.
Analyzing study findings to determine your organization's readiness to finance a big project.
Determining your nonprofit's best next steps for moving forward.
Rely on your fundraising consultant to conduct the feasibility study research because they can provide an unbiased third-party opinion about the readiness of your nonprofit to finance and manage major projects.
Fundraising consultants are experts in this field, so why wouldn't you want one on your side? Especially when you're starting such an important (and impactful!) fundraising campaign. Their unbiased opinion paired with this expertise makes them the perfect resource for your organization.
For more information about this research process, check out Aly Sterling Philanthropy's guide for nonprofit feasibility studies.

2. Setting of Fundraising Goals
Fundraising success means different things to different nonprofit organizations.
However, you may be concerned about your past success in fundraising simply because your measurements of success are off! Establishing proper goals can help your organization ensure you reach success, whatever that means for your organization.
Your fundraising consultant can provide an unbiased and professional perspective to help you set and reach organizational goals. They can also help you develop a goal chart in order to help you better visualize benchmark objectives and ultimate goals. This chart will include elements such as:
The category of the goal.
The goal you wish to achieve.
The challenges you may encounter while trying to reach this goal.
See below for an example of what this chart may look like for your organization: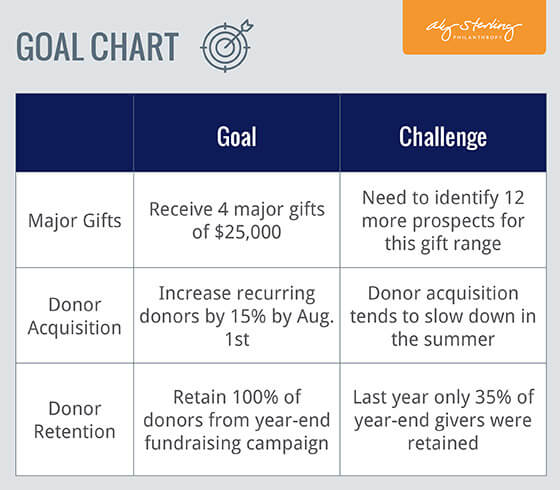 Be sure to include more than just direct fundraising goals on your goal chart. This chart can be a good place to document other objectives for your organization, especially when those goals will indirectly result in greater fundraising success. For instance, you might include goals that will help you:
Increase your visibility in the community.
Communicate effectively through your outreach strategy.
Recruit regular volunteers to donate time to your organization.
Spell out your specific goals and challenges with your fundraising consultant so that your organization can see improved fundraising results, more benchmarks reached, and greater overall success.

3. Maximizing Project Fundraising Strategies
Fundraising consultants can help your organization assess past fundraising strategies in order to assist your organization in building future strategies.
While it can be difficult for us to identify our own past missteps, an unbiased third party can more easily see the gaps in your planning and help reevaluate for the future.
Armed with this information, your fundraising consultant can help you create a very specific plan for your fundraising needs. When preparing for a fundraising campaign, your consultant might help your team develop strategic campaign collateral like a gift range chart.
A gift range chart helps you see exactly what gift amounts are needed to reach your ultimate goal. Specifically, a gift range chart will show you the following data:
The giving levels for your campaign
Number of gifts needed at each giving level
Number of prospects you'll need to approach for each giving level
The total amount of funds you need to raise
In a typical gift range chart, you should expect to see fewer prospects for larger gift amounts and more prospects as the gift amount decreases. It is set up this way so that if your prospect turns down a higher ask (like the top tier), you can counter with the next highest level. Then, you can ask a prospect in that second tier for a higher gift amount.
For an example of a typical gift range chart, consult the following model: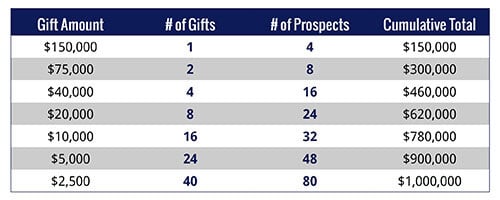 The gift range chart for your organization may look different from the one featured here because your goals and prospect numbers differ. Each chart is unique according to the needs of the campaign and the organization.

4. Research to Find Prospects
Prospect research and development involves researching your supporters (and potential supporters) to find those with the greatest affinity for giving to your organization. The specific metrics you will be looking for include:
Philanthropic indicators. Philanthropic indicators measure aspects like prospects' past involvement with your organization. These indicators also include involvement they may have had with other nonprofits, similar organizations and political campaigns.
Wealth indicators. Wealth indicators measure the signs of wealth that your prospects display. For instance, property and stock ownership may indicate an ability to donate higher amounts to your organization.
While your organization could complete this research process all on its own, the benefit of hiring a fundraising consultant is that they have the training and experience needed to quickly and accurately analyze and compile a list of prospects.
Hiring a fundraising consultant to conduct prospect research for your organization can save you time and effort, produce quality results and free you up to work on other aspects of your mission!
Provide your fundraising consultant with the proper tools they need to conduct prospect research. This includes an organized CRM and prospect research software. To find the best software for your organization, check out Fundly's list of top donor prospect research software.

5. Establish Strategies to Support a Culture of Philanthropy
From the top executive to your frontline warriors, all of your staff, volunteers, and community members should be involved (and excited!) about your fundraising efforts.
Your nonprofit consultant can help your leadership create strategic plans to tackle your fundraising efforts as a team.
First, the consultant can interview your stakeholders, board members, and other members of the community to find out what your organization already excels at in addition to your common roadblocks to fundraising success. For example, your organization may have an excellent leadership team, but have issues marketing your name and image to the community.
Next, your consultant can help establish how these needs should be addressed through the personal goals of each team member. For instance, your major gifts officer may focus heavily on stewarding major donor prospects while your marketing director may focus on strategies to build broader awareness of your cause in the community.
Both of these personal goals support the nonprofit's overall objectives, and by working with your individual team members to ensure they understand their important roles, your nonprofit's consultant helps strengthen the culture of philanthropy at your organization.
Not only should your organization's individual members understand their role in fundraising efforts, but they should also understand how that role fits into the larger picture.
Your fundraising consultant can help your organization connect each person's role back to the mission itself. This strengthens internal relationships, demonstrates appreciation for each team member, and excites everyone to take on the next fundraising challenge!
Now that you've learned the benefits nonprofit fundraising consultants can offer your team, you're ready to get started searching for the right fundraising partner!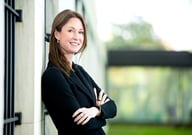 Aly Sterling is an accomplished speaker, active board member and proud leader of Aly Sterling Philanthropy, a national consulting firm based in Midwest. Her expertise includes fundraising, strategic planning, search consultation, and board leadership development for organizations of varying sizes and capacities.
Ally Sterling