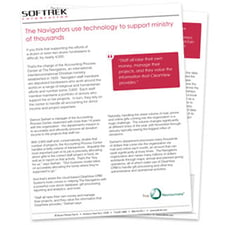 Who they are: The Navigators, an international, interdenominational Christian ministry established in 1933.
The need: Support the efforts of nearly 4,000 fundraisers around the world. Navigator staff members are deputized fundraisers who work around the world on a range of religious and humanitarian efforts. Each staff member maintains a portfolio of donors who support his or her projects and accurate accounting of this information is paramount.
The answer: The Navigators' Accounting Process Center handles all accounting for donor income and project expenses with ClearView CRM. The center accurately and efficiently processes all donation income to the projects that staff run, precisely allocating donor gifts to the correct staff project or fund and reporting on that activity.
Read the whole story