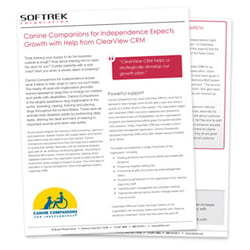 Who they are: Canine Companions for Independence, which provides, free of charge, highly trained assistance dogs for children and adults with disabilities.
The need: Canine Companions is steadily increasing the number of dogs it places. Its expanding program calls for a strategic fundraising plans that supports that growth.
The answer: With ClearView CRM fundraising software, Canine Companions for Independence gets support for its strategic growth plan. The organization uses ClearView CRM for major donor cultivation and solicitation efforts, to track volunteers interested in serving as trainers, and to find people who need assistance. Significantly, ClearView CRM has helped Canine Companions triple monthly giving.