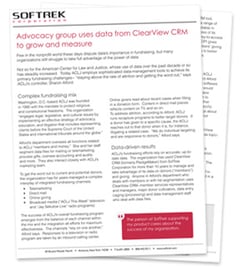 Who they are: American Center for Law and Justice, which advocates and educates for religious freedom.
The need: ACLJ wants to take full advantage of data it receives from wide-ranging multichannel fundraising efforts.
The answer: With ClearView CRM fundraising software, ACLJ has steadily increased its use of data to define target audiences, fine-tune its fundraising mix and run recapture programs. It has significantly addressed the issues of donor attrition facing all nonprofits.