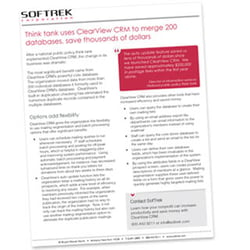 Who they are: A large national public policy think tank with headquarters in Washington, D.C.
The need: The think tank maintained more than 200 databases to track donors and other constituents, leading to incorrect data, inefficiency and duplication of efforts—and records.
The answer: After the think tank implemented ClearView CRM, the change in its business was dramatic. The organization moved data from more than 200 individual databases it formerly used into ClearView CRM's core database. ClearView CRM's built-in duplication checking eliminated numerous duplicate records and gives the organization the flexibility to use mailing segmentation and batch processing options that offer significant benefits.